The blog is a pretty boring place right now. I have nothing new to share.
I really have a problem with impatience, impulsiveness, and laziness. I get tired of a project that takes too long. If I see a new project that I love, I put anything I am working on a side and start the new project. This leaves me with a lot of unfinished things. And the laziness kicks in when I have come to a part in a project I don't like to do or is more work. For instance, all the fat birdies I am making. I made 6 or 7 fat birdies in a bunch of different colors. They all look adorable! But when it comes time to take pictures of them, I get lazy and tell myself I don't need to do it right now. They were supposed to go into the Etsy shop for Easter. I guess since my Etsy shop isn't a big priority for me, I didn't really motivate myself like I should have.
I also don't have a lot of confidence in my photography and the way I can stage my things. It's more because I just don't have a lot of knowledge of photography, which is ok. So because of this, my poor Fat Birdies are just sitting in a bag doing nothing. Well one is in Hailey's bed because I let her pick one to keep. They may make an appearance on the blog someday.
Another reason I don't have anything to show right now is because we are getting some beautiful weather right now! When the temps went up, my mood got happier and we spend a lot of time outside. But unfortunately, yesterday Miss Hailey got sick. So now I am wiping her tiny nose, giving her cough medicine and playing board games.
Hopscotch with Grandma last week
I do have one project I would love to finish for Hailey by Easter. It's a big knitted bunny I found on Purl Bee. It's so cute! Unfortunately it's been quite a challenge. I am giving myself pep talks though so I can finish! Hailey will love it, and that's enough motivation right there.
Pattern: Big Cuddly Bunny
……………………..
I think I will leave you with a picture full of cuteness!
Turtles
Pattern on Etsy here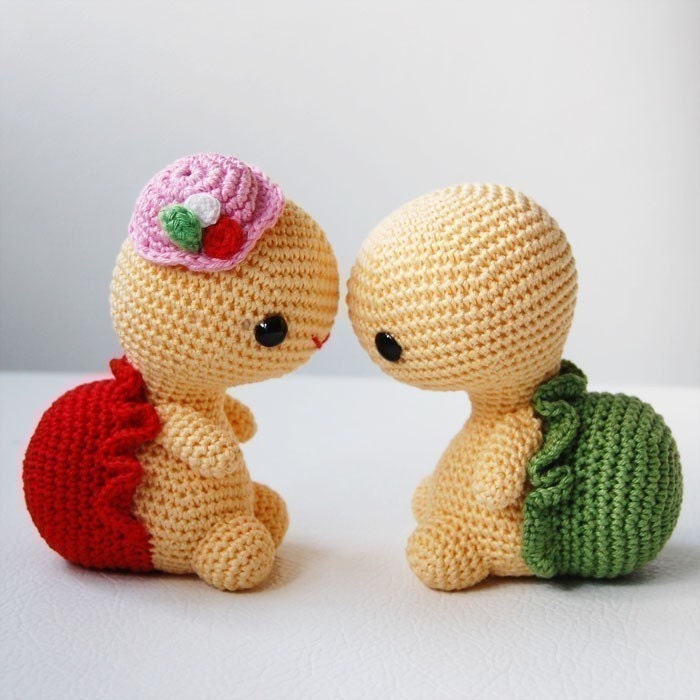 Thanks so much for reading my friends! I will get back into the swing of things soon. Spring is a whole new season full of color and happiness. Ok that was a little sappy. I'll be done…
Have a great Thursday